Bolex was a motion picture camera manufactorer based Switzerland. A majority of their camera models used a spring-wound clockwork power system, although some later models were electrically powered instead.
The 16 mm spring-wound Bolex has for a long time been a popular beginner´s camera in film schools and among amateurs, and many film makers learned to film using Bolox cameras. The reliable, robust and light-weight Bolox cameras have also been a common choice among adventurers who needed portability but also required high-qaulity optics and special zoom lenses.
A few examples of notable Bolox users
Steven Spielberg
Andy Warhol
Jean-Luc Godard
David Lynch
Edmund Hilary
Jacques Piccard
Thor Heyerdahl
Peter Jackson
Will Vinton
Maya Deren
Spike Lee
Antoine de Saint-Exupéry
James Dean
Marilyn Monroe
Mahatma Gandhi
Ridley Scott
Quentin Tarantino
Marie Menken
Terry Gilliam
Marlène Dietrich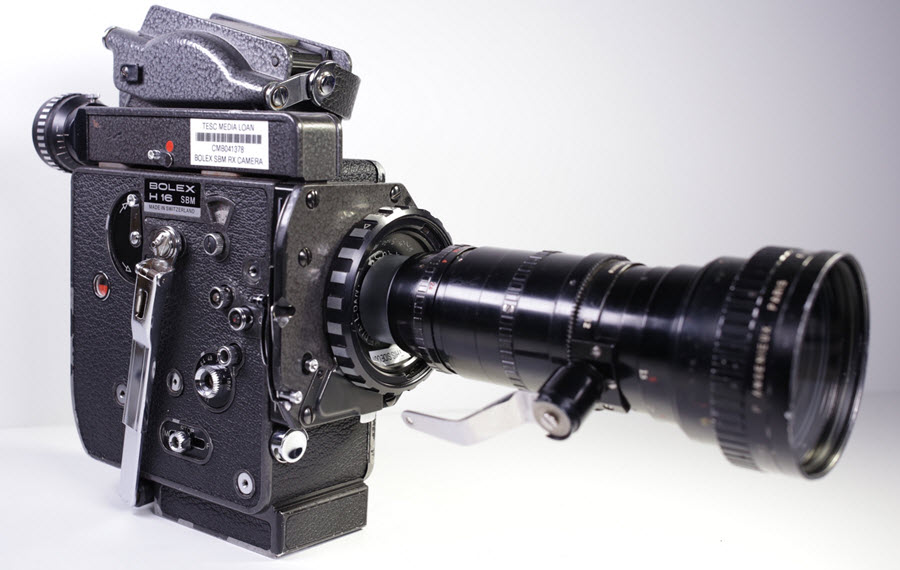 History
Background
Bogopolsky & Haccius
In 1925, a company named Bol was founded by Charles Haccius and Yakov Bogopolsky, whose Frenchified name was Jacques Bolsey or Bolsky. The name Bol is derived from Bolsey / Bolsky. Two years earlier, Bogopolsky had presented the Cinégraphe Bol at the Geneva Fair, an invention capable of taking, printing and projecting pictures on 35 mm film. Charles Haccius was a businessman from Geneva who was willing to invest.
Bogopolsky soon came up with a camera for the 16 mm format, and this resulted in the production of Bolex Auto Ciné. Bolex Auto Ciné A and B were both built by the renowned Swiss watchmaker Longines in Saint-Imier. Around the same time, Stoppani in Bern built a projector for Bol.
Paillard & Cie
When Bol was purchased by Paillard & Cie for 350,000 Swiss franc, Bogopolsky was hired as consulting engineer for five years. Soon, the relationship turned sour, as Paillard & Cie felt that the cameras and projectors did not live up to the promises made by the sellers. Just two years into the five year period, Bogopolsky was dismissed from Paillar & Cie.
Instead of using the patents they had acquired, Paillard & Cie decided to start from scratch and make their own camera. The Bolox cameras of today thus have their roots the work of Paillard & Cie engineers rather than being the legacy of Bogopolsky.
Early Bolox cameras made by Paillard & Cie
The Paillard H16 cameras was introduced in 1935. A driving force behind its creation was the young engineer Marc Renaud.
A 9.5 mm version of the Paillard camera followed in 1936 and a Double-8 mm version in 1938.
The L-8 was launched for the growing 8 mm pocket film camera market.
Post-WWII
After the war, the market for home movie making expanded. Paillard-Bolex developed 8 mm and 16 mm cameras for this consumer segment, and also launched a successful range of high-end movie projectors for amateur gauges.
Simultaneously, Paillard-Bolex noticed how the H16 was becoming increasingly popular among professional film makers and highly dedicated amateurs. In 1952, they introduced Bolex Stero; a 3D stereo kit for the H16 camera and model G projectors. In 1954, the H16 was improved in various ways, and did for instance get a different claw drive, a laterally inverted film gate, and a 170 degrees opening angle shutter. The first H16 reflex viewfinder was launched two years later.
1960s
In the 1960s, it became possible to use the H16 like a professional synch-sound camera. It was fitted with a saddle suitable for a 400-ft. film magazine, and also got larger synchronous electric motors attached to the body. Three tapped bushings replaced the single-tap button base, and a protruding 1-to-1 shaft was introduced for the ESM motor.
When Kodak introduced the Super 8mm format in 1965, Paillard-Bolex quickly adapted the18-5 Auto 8 mm projector to suit Super 8 and launched it as the 18-5 L. Interestingly, they were not quick to launch their own Super 8 camera. Instead, a lot of effort was put into the creation of the Bolex 16 Pro Camera, a technically adanced professional camera which premieered in 1966 and competed for the same users as the Arriflex 16 BL camera. Compared to the H16, it was more suited for television.
The 1970s: Eumig
On 1 January 1970, Eumig of Vienna acquired the Bolex division from Paillard. Eumig kept the Bolex brand, but production of most cameras and equipment was moved from Switzerland to Eumig facilicites in Austria and to Chinon facilicites in Japan.
The 1980s: Bolex International
Eumig liquidated in the early 1980s, and Bolex was acquired by the Bolex manager René Ueter, who managed to obtain funds from a bank and form Bolex International. Bolex International focused on servicing and repairing certain types of Bolex cameras.